Business-class software and systems work in real-time to protect 24/7 with the latest updates and threat intelligence from around the world, including antivirus.

This comprehensive digital security system prevents malware infections from viruses including ransomware and spyware. Protects from data loss, phishing, key-logging, and all other threats your technology faces everyday online.  And, importantly, it keeps your software updated and current, automatically, including Windows. 
Now enhanced with machine learning and artificial intelligence.
Comprehensive cybersecurity with Device Protection includes:
Advanced Anti-virus – prevents malware, ransomware, spyware, key-logging and all malicious variants of computer infections.
Intruder Protection – keeps unauthorized users out.
Data Loss Protection – financial and personal information is locked down. 
Application Control – snooping software and unwanted activities are blocked.
Browser Controls – known bad actors are kept out and questionable activity is screened giving you control of what gets in your browser and computer.
Much more – advanced threat intelligence, machine-learning, and many other features are continually updated for maximum efficacy and security of the device.
Ready to start protecting now? 
New, Updated Engine for Device Protection
CTS Cyber Threat Security  is committed to continually upgrading and enhancing all of its cyber-security solutions and services. The IT-security industry is growing and innovating, and we will always be improving the efficacy, affordability, and ease-of-use for all out customers. 
Our latest upgrade for 2019 is an updated performance engine for the F-Secure Device protection service:
Database size decreases by nearly 75% making it even less obtrusive and easy to use.
Reduced network bandwidth usage due to the smaller database size.
The auto-update feature for software updates has again been lightened and is even easier on the computers' systems.
The new Device Protection engine is expected to consume less IO/CPU resources from your Mac and Windows machines.
The new machine learning technologies are expected to reduce false positives by 25% to 50%. 
We are Destin, Miramar Beach, Santa Rosa Beach, 30A, Seagrove Beach, Watercolor, Sandestin, Seaside, Dune Allen Beach, Blue Mountain Beach, Freeport, Rosemary Beach, Panama City Beach, Fort Walton Beach, Mary Esther, Shalimar, Niceville, Bluewater Bay, Florida's best computer security company.
What is Device Protection?
Device protection means that all of your internet-connected devices contain software that monitors, manages, and protects them from malicious activity, automatically, preemptively, and in real-time.
And as we demand more and more of our computers and mobile devices, the need for device protection also increases.
Our Device Protection service allows individuals and businesses to centrally manage the security of all their internet connected technology through systems that offer Dynamic Monitoring & Management of all devices, and Automatic Updates to protect by ensuring that the most current patches, or fixes to the software are automatically added to each of your devices as soon as they are available.
Why do my devices need protection?
Think about it: your personal information has become the most sought-after commodity in the world. While a username or password alone may seem useless and without value, access to this type of information is what gives hackers pathways into unlimited additional, and often very valuable, data.
Consider the many devices you might use on a daily basis to carry out day-to-day tasks, such as ordering pizza, paying your bills, communicating with coworkers, or checking on the security of your home. Each of the devices you use to perform these tasks is vulnerable to a security breach, making your information accessible to cyber attacks.
All MacBooks, iMacs, and Windows devices need laptop protection, and even digital devices such as the Amazon Echo or Google Home need device protection, as they too can store valuable data. Whether it's a home address or your search history, a credit card number, bank account number, or a client's social security number, hackers can methodically mine and analyze the information in your devices, searching for valuable pieces they can use.
For those who do business over the internet, this means you may even have other people's private information on insecure devices, putting your profession, your reputation, and your client's well-being at risk.
Have questions about how to protect your digital devices, secure your email, and use encryption to become invisible online?  Complete this form form for a free quote and no-obligation consultation:
Digital security for Windows, Macs, and Androids
CTS Cyber Threat Security's device protection service guards your devices against malicious intrusion including spyware, key-loggers, viruses, worms, or any type of malicious code or malware that infiltrates a computer.
What is malware?
Malware (short for malicious software), is generally a type of software designed specifically to infect your digital devices, often in an attempt to steal your personal information. Malware can sneak in through a hole in one of your software programs, hidden in an online ad or disguised as a legitimate app you download. Common types of malware are:
What is spyware?
Spyware runs in the background of your computer, monitoring web browsing patterns, capturing passwords and usernames. Many hacks start with a period of stalking and information gathering. The data is sorted, assembled, and engineered for maximum gain for the cybercriminal. 
What is key-logging?
A key-logger is an easily obtainable code that tracks everything you type or "key" into your digital device and then sends that data back to the hacker where the malware code originated. That data then gives hackers access to your accounts or the accounts of others you have communicated with — all they have to do is wait until you log on to a website, your email, or other accounts, and they'll be able to do the same.
What is a computer worm?
According to Wikipedia, a computer worm is a standalone malware computer program that replicates itself in order to spread to other computers. Often, it uses a computer network to spread itself, relying on security failures on the target computer to access it.
Worms almost always cause at least some harm to the network, even if only by consuming bandwidth, whereas viruses almost always corrupt or modify files on a targeted computer.
What is ransomware?
Many have called ransomware the fastest growing crime on the planet. Ransomware is software that allows hackers to lock users out of their devices — encrypting a hard drive or blocking access to files and data until a sum of money, or ransom, is paid.
For a recent 2018 report on the evolving ransomware threat, and how severe it is becoming around the world, click here.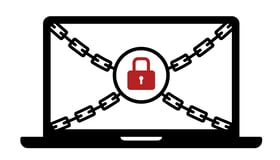 All of these possibilities are virtually eliminated with the device security, device monitoring, and automatic updates provided by our comprehensive device protection service. These products scan all of your devices, 24/7 to protect your network, monitor the activity, and update the software, in order to detect and block malicious intrusions before they can cause any harm.
How does the device protection service work?
CTS Cyber Threat Security's device protection service delivers digital security solutions for individuals, businesses, family offices and trusted client advisor by installing a powerful, protective security network on all of your digital devices.
Without a need for hardware, our digital security solutions analyze all of the data traveling to all of your devices to provide robust Windows PCs and laptops, Apple computers and MacBooks, and Android mobile phone and device protection. 
You can't completely eliminate any risk, but you can mitigate it substantially with the right digital protection software.
We are Destin, Miramar Beach, Santa Rosa Beach, 30A, Seagrove Beach, Watercolor, Sandestin, Seaside, Dune Allen Beach, Blue Mountain Beach, Freeport, Rosemary Beach, Panama City Beach, Fort Walton Beach, Mary Esther, Shalimar, Niceville, Bluewater Bay, Florida's best computer security company.